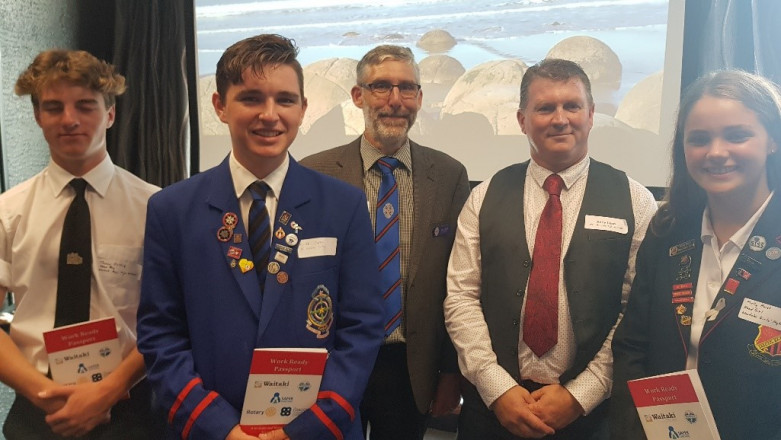 In early 2019 MTFJ Chairman Mayor Max Baxter and Taskforce Coordinator Noa Woolloff went on a road trip to visit South Island Councils and to hear from the Mayors about the local challenges facing their communities in relation to youth unemployment.
Mayor Gary Kircher of Waitaki District Council mentioned the launch of their Work Ready Passport in conjunction with the Waimate District Council in March.
The Waitaki and Waimate district secondary schools and Safer Waitaki gathered together with local Rotary Clubs and the Chamber of Commerce to customise the concept for a Work Ready Passport based on the employability and skills framework.
The Work Ready Passport is about helping students join the dots between school life and employer expectations. While at school or soon after leaving, young people would start checking off the tasks on their Work Ready Passport to show employers that they are indeed 'work ready'. Once completed, the young person's Passport would then be accessed by a panel and then if successful, be awarded a "Work Ready Passport Certificate".
The Passport aims to record evidence which young people can relate to such as turning up on time for sports practice, earning a driver licence, past work experience, job interviews and being tolerant and respectful.
The Mayors Taskforce for Jobs is supportive of the Work Ready Passport and would love to see more District Council's throughout New Zealand supported to create their own local Passports, in support with their local community.
Principal of St Kevin's College Mr Olsen said "We hope that the Passport will promote discussion about the skills needed for employment and for students to get authentic feedback about what skills they need to develop, to really be work ready."
As the Principal of St Kevin's College Mr Olsen has seen various challenges which his students are confronted by as they look to enter the workforce. These challenges range from the unknown experience and expectation of entering the workforce, the employment markets hostile environment compared to the nurturing environments in schools and being able to try again after rejection.
Mr Olsen mentioned "Each of these issues can have the opposite outcome, with the right support and encouragement. This is where the Work Ready Passport can systematically break down barriers and demystify the employment experience. It fosters a growth mind-set based on a strengths-based approach."
We look forward to watching the impact of the Passport!