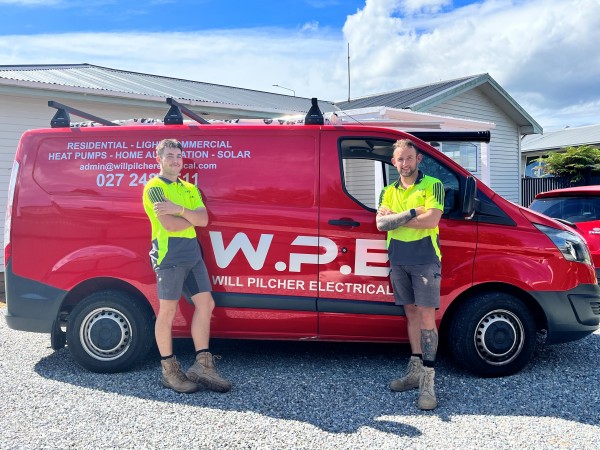 Kane Parker (left) who is thriving at Will Pilcher's electrical business in Hokitika with the help of Mayors Taskforce for Jobs. Photo/Supplied
A Westland teenager has a bright future thanks to the help of the Mayors Taskforce for Jobs (MTFJ) Community Recovery Programme, funded by Ministry of Social Development's Industry Partnerships.
Kane Parker, of Ngāti Waewae, is thriving in an apprenticeship at Will Pilcher Electrical in Hokitika.
The programme has supported the 18-year-old with a tool allowance, professional development courses for heat pump and solar, and travel to block courses in Christchurch as part of his apprenticeship.
Without this support, Parker would have struggled to take on the opportunity at Will Pilcher Electrical.
"It's definitely made a difference. It means I can get a better education and career," he says.
During high school, Parker was at a loss for what to do when he left but knew he wanted to do something practical.
MTFJ's support into the electrical apprenticeship has given him the chance to learn new skills for a life-long career.
"I love the job because you get to meet new people and travel around the West Coast."
The Programme, which provides funds to rural and provincial councils to tackle unemployment and skill shortages, has been of huge benefit to businesses as well.
Will Pilcher says the support of MTFJ has allowed his business to expand and support Parker without having to worry about all the additional overheads associated with employing new staff.
"We are looking forward to being a part of Kane's journey, watching him grow with the company and becoming a talented tradesman within the world of electrical work."
Kane is one of 500 placed into employment in the trade and construction industries, many of them apprenticeships, throughout New Zealand. Over 1,300 people have secured jobs since 1 July 2021.
MTFJ Chair and Mayor of Ōtorohanga Max Baxter says it's wonderful to see so many apprentices being hired through the Community Recovery Programme.
"I am thrilled that so many businesses are willing to help these people into work. This will not only boost industries and businesses struggling with skills shortages but will also be life-changing for the people who are now in employment.
"I am so proud to be part of such an impactful and important programme."
The Community Recovery Programme is a partnership between MTFJ and MSD with a national aim to get 1,450 young people or Covid displaced engaged in a sustainable employment pathway.