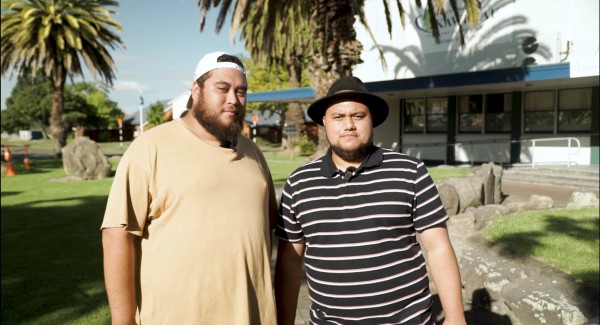 Kawerau rangatahi Iraia Nuku and Majean Rogers inspire others through video and mahi. Photo/Supplied
Looking to youth to help other youth has paid off in Kawerau.
Two rangatahi have demonstrated leadership in their community by raising awareness through videos and running vaccination clinics.
Majean Rogers and Iraia Nuku were invited to a meeting with community organisations to figure out how to encourage rangatahi to get vaccinated. The coordinator of the Kawerau Mayors Taskforce for Jobs (MTFJ), Amy Hayes, who helps rangatahi into employment, knew it was a no-brainer to get youth leaders involved to help find a solution.
"She identified that the best way to boost rangatahi vaccinations was to have us two on board seeing as we are still in that rangatahi bracket", says Rogers.
"We both grew up in Kawerau, attended local schools and were Head Boy of Tarawera High School in different years," Nuku says.
"Hayes got us to that meeting to start discussing and the group was so impressed with our methods that they made us Kawerau DHB liaisons in charge of all the vaccination clinics under the DHB," says Rogers.
Rogers and Nuku were then supported by MTFJ to create a vaccination promotional video for the Kawerau DHB.
This was such a success that Hayes asked them to create another video raising awareness about MTFJ in Kawerau, and, as it was MTFJ that got them into their current employment they couldn't say no, Rogers says.
"We came up with the concept, locations, shot the video, and edited it all on the same day. We have gotten nothing but excellent comments from the community.
"The community appreciates it when local rangatahi do constructive efforts in our town."
Rogers says opportunities like the ones created through MTFJ can be life-changing for rangatahi.
"Our commitment has always been about ensuring rangatahi get the most out of whatever opportunity comes their way.
"Both of us were part of the Kawerau Youth Council for several years and we have seen what these opportunities can do for young people in our community.
"Overall, we are two Kawerau locals committed to boosting youth development and community engagement."
Kawerau mayor Malcolm Campbell says MTFJ and the council supported these videos in many ways, from hiring rangatahi to lead the project, including from production, talent and distribution to script and resourcing.
"It's incredibly important to support our local rangatahi and trust that they can deliver quality work, because they can, and they absolutely thrive when given responsibility.
"The response has been phenomenal, they have a huge reach to a large and varied audience, they speak to our community in a clear language that they understand.
"Having our local rangatahi lead in this space has been invaluable."
Watch the video here: https://bit.ly/37ohFxz