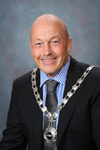 Ready, Steady, Work is a five-week course to prepare young people for jobs. It includes mentoring sessions, fitness and healthy eating classes, guest speakers and meetings with potential employers.
The course is a joint effort between Mayors Taskforce for Jobs in Clutha and employers in the district and aims to reduce youth unemployment by identifying those needing a job earlier and helping them become an attractive employment prospect. The goal is to have no-one under the age of 24 unemployed in the Clutha District.
Mayor Cadogan believes the course proves that the stereotypes and labels often given to our unemployed youth are simply not true. "All those who take part genuinely want a job." Numerous Clutha employers particpate in the scheme offering jobs in factories, forestry, agriculture and other sectors.